Our Mission
Friends of Imiliwaha help to improve the quality of life in Imiliwaha, Tanzania through education and healthcare.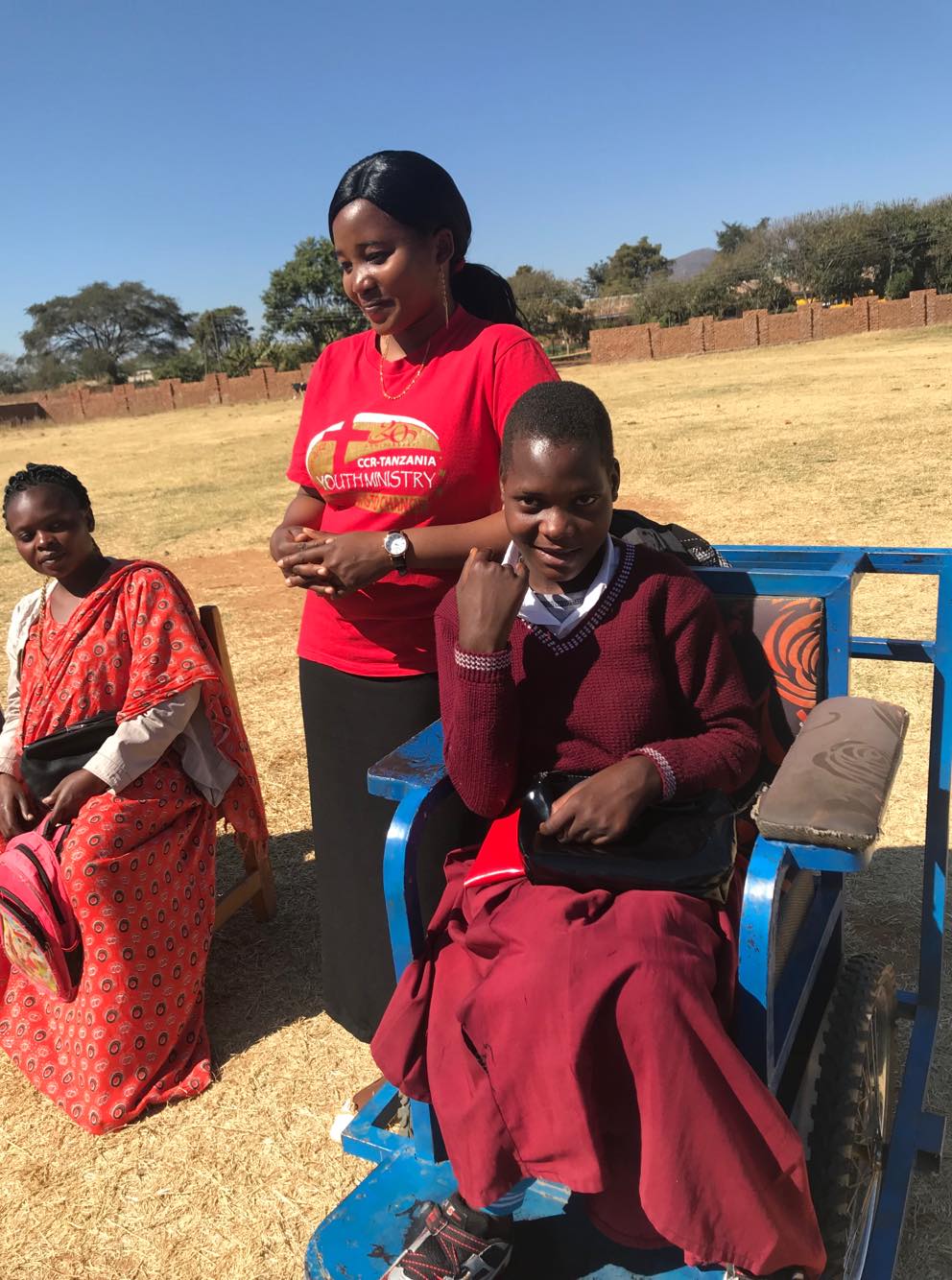 Maria's Story
by Margaret Roth

Sister Afra and the Benedictine Sisters of St. Gertrude in Sumbawanga undertake outreach visits to impoverished households in the area.

During one of those visits they encountered Maria, who lived in a shack with her parents and siblings. Maria's life seemed limited by the extent of her severe disabilities—malformed limbs, inability to speak—but this 11-year-old girl exudes much potential beyond her bedraggled appearance.

She was the third of six children of extremely poor farmers who had to work on their small plot all day just to eke out a bare existence for the family. Their two-room house in a nearby village was completely lacking in furniture and the family slept on mats spread on the dirt floor. They had only enough food for one meal a day. And they had a daughter who was severely disabled.

While the rest of the family was out working or going to school, they kept Maria at home, because they feared that in her helpless state she would be molested or sexually assaulted and possibly become pregnant by boys in the village. Maria could not speak or walk and had not had any schooling in her twelve years of life. Sr. Afra knew of many cases where disabled teenagers had become pregnant and had to give up the children they bore, because they couldn't take care of them.

When the sisters met Maria, besides being unable to talk and walk, she was undernourished and looked much younger than twelve. She propelled herself by sitting on her legs and using her hands to get forward motion. She made sounds something like vowel sounds but she could not speak because she could not lift her tongue. Although Sister Afra has orphans and poor neighborhood children as boarders at her school, she is not equipped to take care of such a disabled child. She knew, however, that her parents could not leave Maria in the empty house all day. So, with the parents' consent, she took a chance and brought her to the convent.

Almost immediately, a small miracle occurred. The other young boarders accepted the new arrival wholeheartedly. They talked, read, and sang to her and helped her move around. Within days, Maria was interacting with her new companions and, with the sounds she could make, greeting them warmly when they came "home" from school which was just across the street.

However, challenges arose. Because Maria had not interacted with anyone outside of her family, she could only understand the local language which her parents and siblings spoke at home. She could not understand Kiswahili, the language used by the other children. She knew that her new companions were friendly and wanted to help her but she could not understand a word they said.

Not to worry, however, Sister Afra had a solution. She went back to the family and asked if Maria's older sister, Anjelina, could come to the convent to care for Maria. Anjelina was fourteen but had only two years of school because she had been taking care of Maria at home. She can translate Kiswahili to Maria's own language and let her know what her companions are saying to her. The sisters pay her for taking care of Maria and she turns over the money to her parents who come regularly to visit their two daughters at the convent.

But Sister Afra faced another challenge. Maria could not get off the floor and could only move around by using her hands. She needed an expensive customized wheelchair which the convent did not have. The third challenge facing Sister Afra is seeking a doctor to evaluate Maria's condition and determine whether surgery would give her the ability to speak.

Sister Afra developed a plan for the two sisters. Maria, who can now voice a few more sounds and write some letters, is obviously intelligent. Maria entered school in 2019. With medical help and a wheelchair, she has a chance at a bright future.

Anjelina learned practical skills like sewing and small animal husbandry, but she also showed aptitude for learning, so she was enrolled in school. She graduated from seventh grade and was accepted into the secondary school run by Sister Afra's community in Imiliwaha. Friends of Imiliwaha provided a scholarship to cover her tuition, room and board, and living expenses.
Maria is very blessed to have Sister Afra, other Benedictine Sisters, and a community of young children to be her helpers and guides in finding her way to as normal a life as possible. With a wheelchair and specialized medical help, she can look forward to a better life.
UPDATE (11/21) - Maria is now 14. She still lives at the convent and attends class, supported by her school friends.
Anjelina, now 16, is enrolled in the secondary school in Imiliwaha, with her sights on becoming a dentist.